Responsible and ethical AI is the ambition for nonprofits
Generative AI democratizes AI. It makes innovation available to everyone, unlocking the potential of digital and human ingenuity together. With generative AI nonprofits are now able to reimagine the future. But are you ready for AI?
As nonprofits prepare themselves for an AI-first world, our Avanade AI Readiness Report reveals a number of insights into how they are preparing and their priorities:
Responsible and ethical generative AI is the ambition for nonprofits.
Nonprofits see improved efficiency as a primary first step for generative AI.
Security and cyber resilience platforms are key to being an AI-first nonprofit.
Nonprofits believe their beneficiaries want to engage more through emerging technologies.
Responsible and ethical AI is the ambition for nonprofits
Avanade's research found that nonprofit organizations place a high priority on ensuring that the use of generative AI is both responsible and ethical. We asked, has your nonprofit organization developed guidelines or policies to ensure responsible and ethical AI usage that is explainable to funders and donors?
Responses were high. 55% of respondents said they are putting together responsible and ethical AI usage guidelines; and a further 40% said we already have these in place.
There will be different approaches, but the first action should be to determine a strategy for AI that supports the organization's mission, including the core values you wish to uphold, and critical risks that the strategy should address or avoid.
This forms the basis of your governance model, from which you can create a set of guiding principles, performance objectives, risk and impact assessment processes, and the technical infrastructure to support the use-cases prioritized.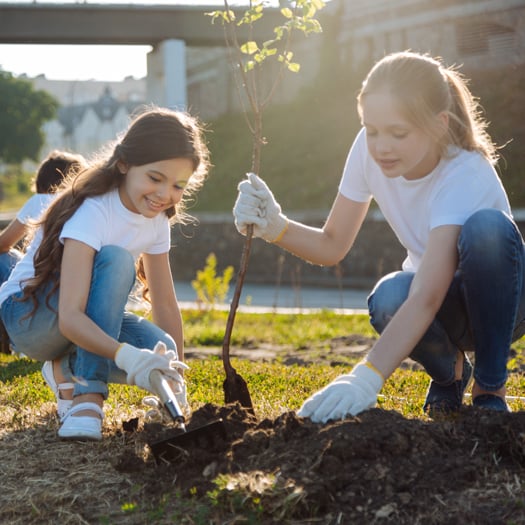 Improved efficiency is the key step for generative AI
The research found that nonprofits see process automation, improved efficiency and reduced error from manual, repetitive activities as a key benefit of applying generative AI to their organization.
39% of nonprofit respondents said their primary objective for generative AI is to improve efficiencies.
There are many use cases for nonprofits, to improve efficiency, such as using generative AI to enhance beneficiary support through AI-powered chatbots, enabling improved response times and often enhanced experiences.  To personalize donor outreach, streamline content and campaign creation, making fundraising more efficient and beneficial to the nonprofit.
Security and cyber resilience platforms are vital to AI
The research identified digital platforms that would be a priority for investment to scale generative AI, including data and AI, workplace platforms, automation platforms and cloud modernization. But the platform which ranked the highest (57%) amongst our nonprofit respondents was security and cyber resilience.
For nonprofit organizations, protecting sensitive data about its employees, volunteers, donors, and beneficiaries is critical. In many cases this is a legal requirement, but it becomes an ethical concern when a breach of that data negatively impacts these stakeholders – it may even put volunteers and constituents at greater risk depending on the type of work the nonprofit is doing.
While many new AI platforms have their own security and access control capabilities, nonprofit organizations are still responsible for the fundamentals of good data governance, including data discovery, classification, protection and retention controls.
Beneficiaries favor engaging more with emerging technologies
87% of nonprofits told us that their beneficiaries either strongly, or mostly, prefer to engage via new technologies such as AI.  When someone mentions ethical or responsible AI, we all immediately think of all the potential risks associated with generative AI. That mindset is important, but we don't want those concerns to overshadow all the ethically positive outcomes nonprofits can achieve with AI. So, for example, if we can elevate a nonprofit's service capabilities, expand the organization's reach, or improve engagement with stakeholders through emerging technologies like AI, then we should pursue those ideas responsibly.  
Of employees will need new skills
According to nonprofit executives, employees will need some new or completely new skills
Of leaders understand AI
Nonprofit executives are confident their leaders understand AI and its governance needs
Increasing IT investments
To scale AI nonprofits are increasing their IT budgets by up to a quarter
AI-first model
Within 1 year, nonprofits will have shifted to an AI-first model
Ready or not: generative AI is here
Read the full report now
New global research from Avanade explores the readiness of organizations to introduce, adopt and scale generative AI tools like Microsoft Copilot.
Want to talk to an expert?
Making what matters starts here
Tell us more about your challenge or need and we will connect you to the right Avanade expert to help you.
How can we help?
Press Contacts
North America
Europe and Middle East (EME)
Growth Markets
North America
Global Headquarters
1191 Second Avenue
Suite 100
Seattle, WA 98101

Europe
Head Office
30 Fenchurch Street
London
EC3M 3BD
Growth Markets
Singapore Headquarters
Avanade Asia Pte Ltd
250 North Bridge Road
#30-03 Raffles City Tower
Singapore 179101